Our services in the area hard & software development
One important element in our business model is the development, problem solving and realization of customized ideas. We would highly appreciate it to become your business partner from your initial idea up to the series production and beyond. Please contact us and find out about our excellent recommendations or get more information here on our website: completed tailor made developments.
Hardware development
Based on the customer´s idea or on given detailed specifications we draft a non-binding offer and present our customer an idea on how we intend to solve this given task successfully. The development is only conducted by applying the latest technology, in accordance with the customer´s requests and by considering economical aspects.
We are at our customer´s side until the desired outcome has been achieved, from the development phase via the layout and the manufacturing of the prototype, the pilot series and the field test to the production run. If requested we certify the product or we conduct standards tests (VDE, ENxxx, ULxxx) according to the customer´s requirements.
Advise and conception

Creation of a specification sheet

Circuit simulation and calculation

Circuit design and layout

Validation and certification

Documentation
Software development
We advise our customers to choose a suitable computer platform for the required control task. We usually use for this task a micro controller made by Texas Instruments (Piccolo, Delfino, F28x), ARM (Cortex M4) or Atmel (AVR).For these platforms we use our in-house developed modular real time operating systems. This allows us a certain flexibility when it comes to implementing new interfaces. We use programmable logic components (CPLD or FPGA) to support the hardware, if needed.
For software development we use a standard development tool, where we add in-house developed tools, if the project requires this. We implement system communication layers via different interfaces from RS232 via CAN to Ethernet.
Advise in choosing the most suitable micro controller structure

Analysis and model designing

Rough and detailed specifications

Creation of a specification sheet and implementation

Tests and documentation

Support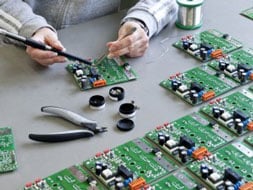 Construction & mechanics
Besides supporting our customers in hard and software development we also advise them in choosing the right casing and the suitable cooling concept for the assembly unit. Using up to date 3D CAD systems we are able to adapt quickly to our customers´needs.
Our "casing-experiences" range from sheet metal and plastic to injection molding therefore we are able to suggest to our customer the most suitable casing solution depending on the customer´s current environmental conditions.
Modernes 3D CAD-System

Close cooperation regarding hardware development

Cooling concepts: free convection, air cooling or liquid cooling

Environmental conditions: from IP00 to IP65
Testing finished products & certification
We conduct tests on all finished products according to our customers´requirements and carry out the certification processes for EMV, environmental analysis security checks or system tests.
We carry out in -house EMV tests which are possible to be accredited. For further testing we are in cooperation with accredited testing institutes.
Creation of test specifications

EMV laboratory to conduct accredited measurements

Climate testing regarding environmental conditions

Testing of finished products and standards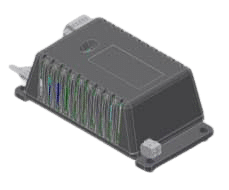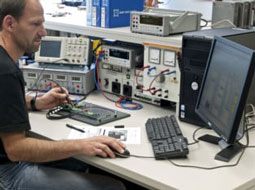 Test equipment for series production
We develop for each assembly unit a separate and suitable testing unit to ensure the quality of our products and to be in the position to run functional tests
Be it needle adapter, functional tester or system tests with integrated security testing – we develop and produce our testing units in-house and store data of the test results on our servers.
Programming of the testing software

Manufacturing of the testing unit